hi everyone this is a page for my friends!!!!!!!
no not the friends i made on the internet or neocities though. i am making another page for that later. these friends are friends i made myelf. i made them!!!! all by myself. they like to hang around onthis website. i love their antics!!!!
you can lern a little more about them here!!!!!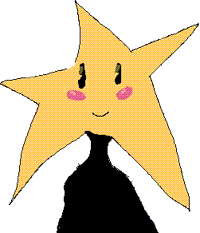 dorothy-ann
she is in her early 30s. she runs a letterpress shop.
she is active in local grassroots anarchist circles. she bakes a mean chocolate chip cookie!
her favorite color of letterpress ink is bright red.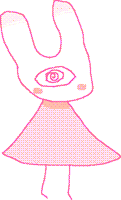 frieda
she... uh...... i dunno what to say about her really.
it's not that there's not a lot to say about her.... i'm just not sure WHAT to say about her.
she's very spacy... her head is very scratchy inside.
she lives in a good house that she found.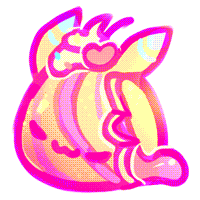 woowoo
THIS IS WOOWOO!!! WOOOO I LOVE HIM!!!
woowoo is the site mascot of uwoowo!!
he was designed by cicaduh who drew this picture of him as well!!
he's a sea bunny slug who's made of agar jelly. it seems the secretions he leaves behind taste of sugar......
after surviving a deadly car crash, he began building a shrine.
he's very fond of anime. his favorites are di gi charat, alien nine, and lucky star.